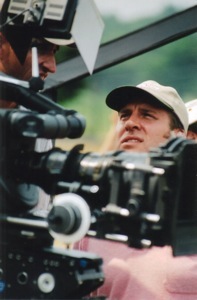 Dave has been a creator of independent film, advertising, web content, and public service communications, in the U.S. and Europe for more than fifteen years. His diverse recent work includes public service advertising commemorating the 2000th casualty in Iraq, the launch of a user generated social networking website around the NFL, and the 2012 publication of his first novel, The Intermediary
Dave completed his first feature film in 2004. Corn, which he wrote and directed, is the story of a young girl who witnesses an environmental accident involving a crop of genetically modified corn. It stars Golden Globe nominee Jena Malone (Saved, Donnie Darko, Bastard out of Carolina) and was produced by Revere Pictures (Door on the Floor, I'll Sleep When I'm Dead). The film was an Official Selection to the 2004 Hamptons International Film Festival. It was released in October 2004 by HartSharp Video (Super Size Me), and has appeared on cable operators Time Warner and Comcast, and is sold and rented at Blockbuster, Best Buy, Netflix and Amazon.
He was the winner of the Grand Jury Prize in Short Filmmaking at the 2002 Sundance Film Festival for his film Gasline, a period piece set in New York during the gas crisis of the 1970s'. The film also won a First Place grant from The National Board of Review. It has appeared on IFC and the Sundance Channel,  and was acquired by Hypnotic, a company owned by Universal.
Previously Dave was SVP, International Creative Director at Ogilvy & Mather, a worldwide advertising agency, where he created campaigns in Europe and the United States, and was a Finalist at Cannes. He worked on brands such as American Express, IBM, Ford, KFC and GTE. After Ogilvy he maintained an extensive freelance relationship with J. Walter Thompson, working on Merrill Lynch, Dell, Qwest, KPMG, and Sun Microsystems.
"As a creative person, you hope for opportunities which will stretch your imagination and test your will, and luckily over my career I've had many of both. I've worked in big advertising agencies on big television campaigns for big clients, and I've written and directed a feature film on a shoestring budget. I've worked on ideas for television and the Internet, where new ways to think about the way we communicate continue to change at breakneck speed. I've managed crews and creative teams of over fifty people, and found solitary joy in the blank page, writing a multiplatform novella. Whether a project requires me to think big or think small, to work alone or in groups, I've lead productions of all sizes, and can bring interesting work in, on time and on budget, no matter how difficult the task."